The Full Monty
Main Content
McLeod Summer Playhouse Lets Loose with "The Full Monty"
CARBONDALE, Ill. - McLeod Summer Playhouse (MSP) bares it all with The Full Monty. The the cult-favorite film-turned-Broadway musical will continue MSP's 2019 Professional Summer Season with performances June 21-23 and 28-30, 2019 in the McLeod Theater at Carbondale's Southern Illinois University. Tickets are available online or by calling (877) 725-8547.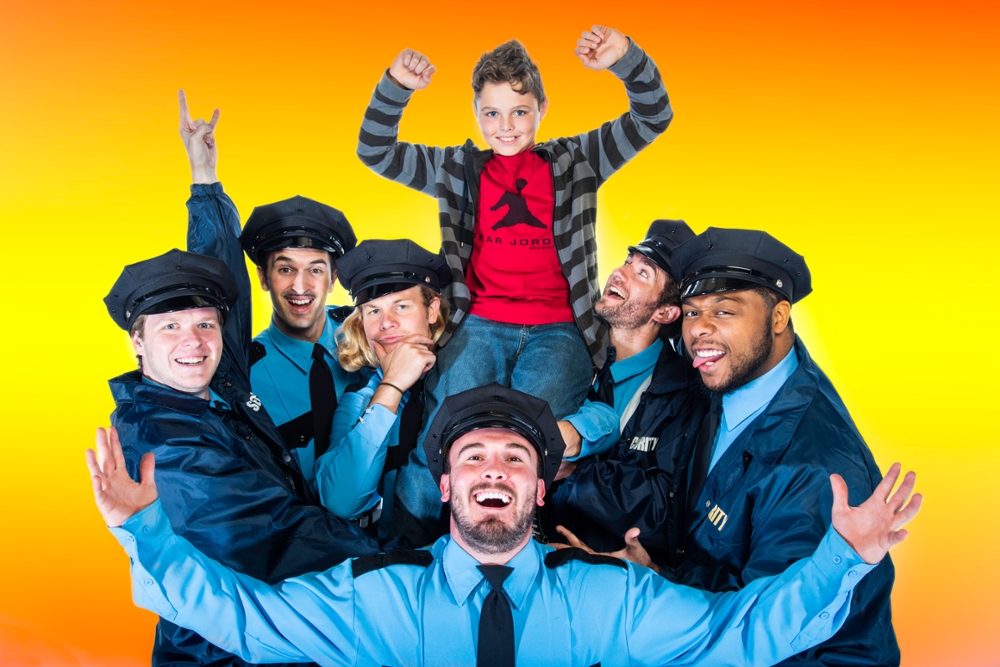 LET IT GO
Before there was Elsa, there was a group of blue collar men from Buffalo on the road to self-discovery (in more ways than one). Based on the British film of the same name, The Full Monty is filled with honest affection, engaging melodies, and the highly-anticipated closing number where the six men learn how to truly "Let It Go."
While spying on their wives at a "Girls' Night Out," a group of unemployed steelworkers sees how much the
women enjoy watching male strippers. Jealous, out-of-work, and feeling emasculated, the men come up with a bold way to make some quick cash. As they conquer their fears, the men discover that they're stronger as a team, and the strength they find in each other gives them the individual courage to go "The Full Monty."
With music and lyrics by Tony Award Winner David Yazbek (Dirty Rotten Scoundrels, The Band's Visit, Tootsie) and book by Tony Award Winner Terrence McNally (Master Class, Ragtime, Love! Valour! Compassion!), The Full Monty is rich with show-stopping music and heart-wrenching relationships. It was nominated for nine Tony awards, including Best Musical, when it shimmied its way onto Broadway in 2000.
PROFESSIONAL TALENT
Bringing this endearing story to life is MSP's Managing Artistic Director, J. Thomas Kidd.
"Anyone who knows me knows that this is my favorite musical play," Mr. Kidd says. "It is such an inspirational and rowdy celebration of the power of friendship, told with such humor and empathy, and of course one of the most hilariously triumphant final moments conceived."
In addition to Mr. Kidd, the artistic team includes Music Direction by Jenna Mee Dosch and Kevin A. Smith, Co Choreography by Katelin Coursey, Scenic Design by Ronald Naversen, Costume Design by Jen Gillette, Lighting Design by Michael Frohling, and Sound Design by Jerome Veit.
The cast of The Full Monty is comprised of professional actors from New York City, Chicago, and across the country. The cast includes Jeffrey Salsbury as Jerry, Katelin Coursey as Pam, Gavin Carnahan as Dave, J. Morgan Shaffo as Georgie, Josh Kimball as Malcolm, Devin Bowles as Horse, Derek Brookens as Harold, Danae DeShazer as Vicki, and Lyndsay Manson as Jeanette. Rounding out the cast in various ensemble roles is Samantha Barboza, Bryce Beliveau, Brooke Bucher, Julia Cicero, Hunter Cole, Kalyn Glover, Jordyn Kess, Jakob Sommers, Amanda Talor, and Mainya Xiong. Also featured and making his professional debut is local young actor, Drayke Cralley as Nathan.
The MSP Summer Season is generously sponsored by SIH Medical Group.
TICKETS ON SALE NOW
Performances will take place in SIU's McLeod Theater, located in the Communications Building, 1100 Lincoln Drive.
Catch The Full Monty on the following performance dates:
June 21, 22, 28, and 29 at 7:30PM
June 23 and 30 at 2:00PM
General admission prices are: $30 for adults and $10 for children and $14 for students.
Tickets are available by phone, online, in person or by mail:
By phone at 877-SALUKIS (877-725-8547).
In person at the SIU Arena (8:30 a.m. to 4:30 p.m.) or McLeod Theater box office (noon-4:30 p.m.) Monday through Friday when the university is in session.
By mail through the SIU Ticket Office, Lingle Hall - Mail Code 6620, 1490 Douglas Drive, Carbondale, Illinois, 62901.
Some fees may apply. Purchase tickets for individual events or take advantage of multiple subscription options.


McLeod Summer Playhouse season features two weekends of performances for The Full Monty.
Performances take place:
June 21, 22, 28, and 29 at 7:30PM
June 23 and 30 at 2:00PM
General admission prices are: $30 for adults and $10 for children and $14 for students.
The McLeod Summer Playhouse season also includes:
Polkadots: The Cool Kids Musical - select Wednesdays and Saturdays through July 20.
Gypsy: A Musical Fable – July 12-14 and 19-21.
The Drowsy Chaperone (All Southern High School Theatre Project) – Aug 1-4.
Purchase tickets or find the complete schedule and additional details online at events.siu.edu. Or, call 877/725-8547 for more information.