Gypsy
Main Content
McLeod Summer Playhouse presents "Gypsy" during 60th anniversary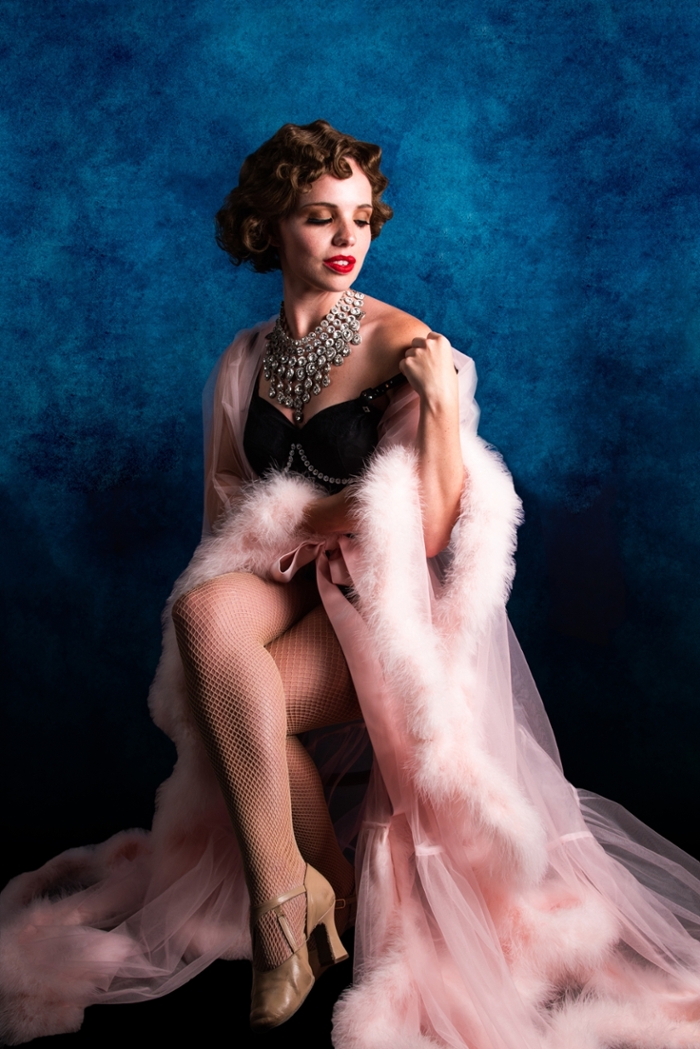 Katelin Coursey stars as Louise, famously known as Gypsy
Rose Lee, the famous striptease artist of the burlesque scene.
CARBONDALE, Ill. – McLeod Summer Playhouse opens its final professional production of 2019 this weekend with a very special 60th anniversary production of Gypsy: A Musical Fable, the play widely acclaimed as "America's Greatest Book Musical."

Inspired by the memoirs of famous striptease artist, Gypsy Rose Lee, the play deftly integrates a compelling story, complex characters and memorable Broadway standards such as "Ev'rything's Comin' Up Roses," "Let Me Entertain You," and "Together (Wherever We Go)." MSP's take on the classic runs July 12-21. SIH Medical Group sponsors McLeod Summer Playhouse 2019.
Classic Performance
Set in the 1920s and '30s—a time when Vaudeville moved from it's heyday into obscurity—the story follows the bombastic and overbearing stage mother, Rose as she desperately pushes her daughters June and Louise to fame and fortune as stars in Show Business.

When younger sister June escapes her mother's clutches to carve a path of her own, Rose turns her attention to the less talented Louise, who steps into the spotlight and find tremendous success in an unexpected new performance career.

"Gypsy" was written in 1959 with lyrics by Stephen Sondheim and a book by Arthur Laurents, and immediately followed their success on another Broadway classic, "West Side Story." The well-known score is by the great American standard and Broadway composer, Jule Styne.

"We are very excited to bring this great musical theater classic to southern Illinois audiences," says MSP Managing Artistic Director and Director of the production, J. Thomas Kidd. "The great New York Times critic, Frank Rich has referred to this play as, '…the American Musical Theater answer to 'King Lear'…', and once you experience the story of Rose and her unrelenting quest for attention and adoration, you can understand why."
"Achieving your dreams"
In many ways the real life Rose achieved her dream, Kidd explained.

"Both of her daughters achieved success and fame: June, as the actress June Havoc, had a stage, film and TV career that lasted for over 50 years, and as Gypsy Rose Lee, Louise became one of the most iconic American celebrities, and at the pinnacle of her career, one of the wealthiest," Kidd said. "She once quipped, 'The Hardest thing about being Gypsy Rose Lee is finding a place to put all my money so I can take it to the bank.' However Rose, as portrayed in the musical, becomes a chilling example of a parent who attempts to live their dreams through their children."
Iconic Production
The role was written for the great Ethel Merman, and has since been played by some of the greatest actor-singers of our time including Rosalind Russell, Angela Landsbury, Bette Midler, Bernadette Peters and Patti Lapone.

Stepping into the role for MSP 2019 is Samantha Barboza.

"I met Samantha at auditions in 2014," said Kidd, "I was blown away by her tremendous vocal power. I have tried ever since to entice her away from other companies to spend a summer performing with MSP. This iconic role finally did the trick, and we are thrilled to have her in the show."

Others in the cast include SIU musical theater alum, Katelin Coursey as Louise; Derek Brookens (MSP's "Mamma Mia" and "The Full Monty") as Rose's love interest, Herbie; 11 year-old Broadway veteran ("Anastasia"), Nicole Scimeca as Baby June; and the entire MSP 2019 professional company. Also appearing are 5 young actors from southern Illinois, playing young Louise and boy backup dancers in the act "Baby June and her Newsboys".

In addition to Kidd, the artistic team includes Choreography by Darryl Clark, Music Direction by Kevin A. Smith and Jenna Mee Dosch, Scenic Design by Ronald Naversen, Costume Design by Jennifer Gillette, Lighting Design by Mark K. Varns, and Sound Design by Jerome Veit.
Performances will take place in SIU's McLeod Theater, located in the Communications Building, 1100 Lincoln Drive.

Catch "Gypsy" on the following performance dates:
7:30 p.m. on July 12, 13, 19 and 20.
2 p.m. on July 14 and 21.
General admission prices are $30 for adults, $10 for children and $14 for students.

Tickets are available by phone, online, in person or by mail:
Online at events.siu.edu.
By phone at 877-SALUKIS (877-725-8547).
In person at the SIU Arena (8:30 a.m. to 4:30 p.m.) or McLeod Theater box office (noon-4:30 p.m.) Monday through Friday when the university is in session.
By mail through the SIU Ticket Office, Lingle Hall - Mail Code 6620, 1490 Douglas Drive, Carbondale, Illinois, 62901.
Some fees may apply. Purchase tickets for individual events or take advantage of multiple subscription options.

The McLeod Summer Playhouse season also includes:
The Drowsy Chaperone (All Southern High School Theatre Project) – Aug 1-4.
Purchase tickets or find the complete schedule and additional details online at events.siu.edu. Or, call 877/725-8547 for more information.

For more information, contact Danae DeShazer, Associate Artistic Director, mcleodsummerplayhouse@gmail.com.